TRADITIONAL ŽĎAS-HEART, STABILITY FOR MANY YEARS, SOLID FUTURE, that's ŽĎAS, a.s.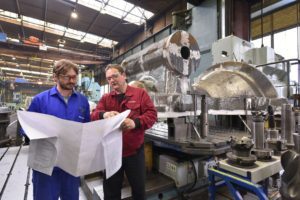 We set the direction of machine engineering industry development, keep the tradition of the ŽĎAS brand and by an innovative approach to work, we offer products of the highest quality. We are not a company with a standard mass production focused only of profit generation, but we do try hard to develop the human resources potential and increase the competitiveness of our company. We are aware of our responsibility to the environment and to the employees. We know how to show our appreciation.
Simply, we do our job by heart and we do it well.
27. 8. 1951 – ŽĎAS – production initiation
1951 – WORLD – start of colour TV broadcasting, Business Calculator invented
29. 10. 1951 – ŽĎAS – 1000th worker employed
1951 – WORLD – first nuclear submarine launched
1963 – ŽĎAS – production initiated in the largest hall – No. 5
1963 – WORLD – first woman in space, Valentina Těreškovová / assassination of US President John F. Kennedy
01. 07. 1967 – ŽĎAS – 10,000th worker went through the gates of the company.
1967 – WORLD – first heart transplant, hippies movement in San Francisco, John Barron was awarded a patent for his ATM invention.
1989 – ŽĎAS – second millionth ton of steel casted
1989 – WORLD – iron curtain fall, Simpsons series started and 15.8 mil. tonnes of steel casted in metallurgy
2000 – ŽĎAS – golden medal awarded at the International Engineering Fair
2000 – WORLD – first crew on the international space station, oil trading in EURO currency, vortex turbine invention patented
2004 – ŽĎAS – Radek Jaroš took the ŽĎAS brand onto the peak of Himalayas
2004 – WORLD – Facebook is established
1. 11. 2006 – ŽĎAS – 25,000th worker went through the gates of our company
3. 6. 2006 – Serbia and Montenegro separated into two independent states, Pluto removed from the list of planets of the solar system