The company of ŽĎAS a.s., as a traditional supplier of fundamental components for power generation, offers power engineering turnkey solutions.
It specializes, together with its partners, in complete "EPC" delivery of power-generating units, mainly in the following technologies:
Gas Power Plants – Simple Cycle
Steam-Gas Power Plants – Combined Cycle
Solutions for combustion of blast-furnace gas and basic oxygen furnace gas followed by generation of electricity and compressed air
Utilization of bio-waste followed by generation of electricity and heat
The company of ŽĎAS a.s. offers unique solution to its customers while it oversees the key components from the production of molten steel through the production of single components and final assembly. All this from the solution design, optimisation from the perspective of all customer needs through the project, engineering, adaptation to given environment, standards, complete delivery of technology, erection, assembly, commissioning and fulfilment of specific parameters given by the customer.
Forms of Project Execution:
Project and technology delivery including assembly (excluding civil engineering part of the project)
EPC – complete power engineering turnkey delivery
BOT – delivery, erection, operation of the power engineering unit and its transfer to the possession of the customer
The company of ŽĎAS a.s. is one of the few companies that offer BOT (Build, operate, transfer) form, which is the top class form of business partnership, whereby our company delivers, erects and operates, at its own expense, the entire work for the customer under clearly laid down parameters and prices for power/heat consumption for the time period lasting from 10 to 15 years of operation. These are usually the projects for large plants where the energy source is built on the site of the customer within the manufacturing premises, and the equipment and construction itself becomes the property of the customer at its handover after having been operated by the company of ŽĎAS a.s. for a predetermined period of time.
Project financing:
The company of ŽĎAS a.s. generally focuses on export deliveries of power-generating units. There are several ways how to finance the project. Credibility and financial stability of the customer is essential. We offer the following forms of financing:
Export financing – granting of export credit to the client, duration of the credit from 5 to 10 years, export credit includes insurance by EGAP, the export credit insurance corporation, or by other commercial insurance company.
Financing of BOT form – ŽĎAS a.s. offers financing of up to 100% of the whole project, usually through combinations of credits.
Postponement of maturity of receivables arising from export contract.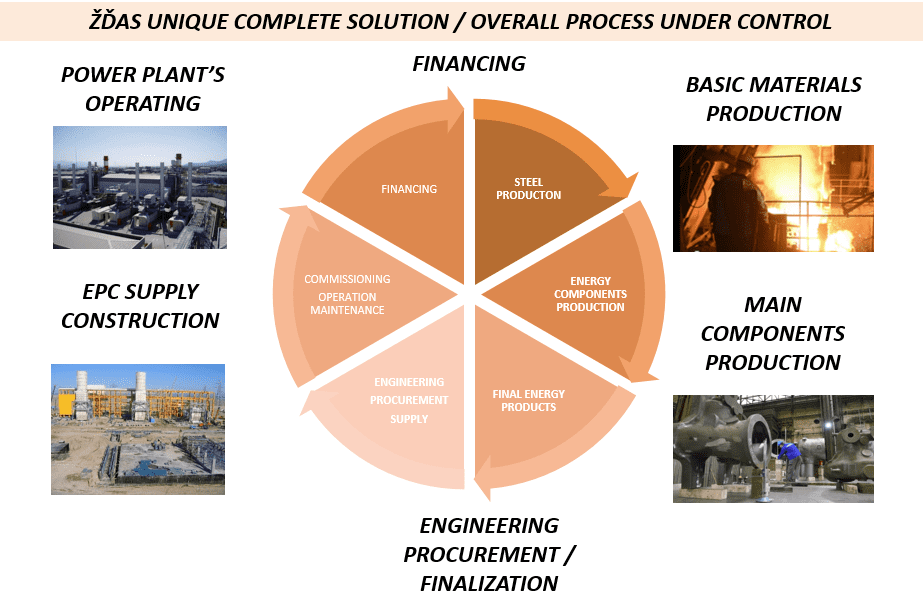 Our partners are: