IoT / ROBOTICS / INDUSTRY 4.0 / ENGINEERING / REVISION ACTIVITY / ELECTRICAL PRODUCTION / INDUSTRIAL AUTOMATION
The department of ELECTRICAL SYSTEMS of ŽĎAS provides the development, design, project processing of documentation, development of application SW PLC, visualization and virtualization and production of electrical equipment for products manufactured in ŽĎAS. We also supply electrical equipment to our external customers.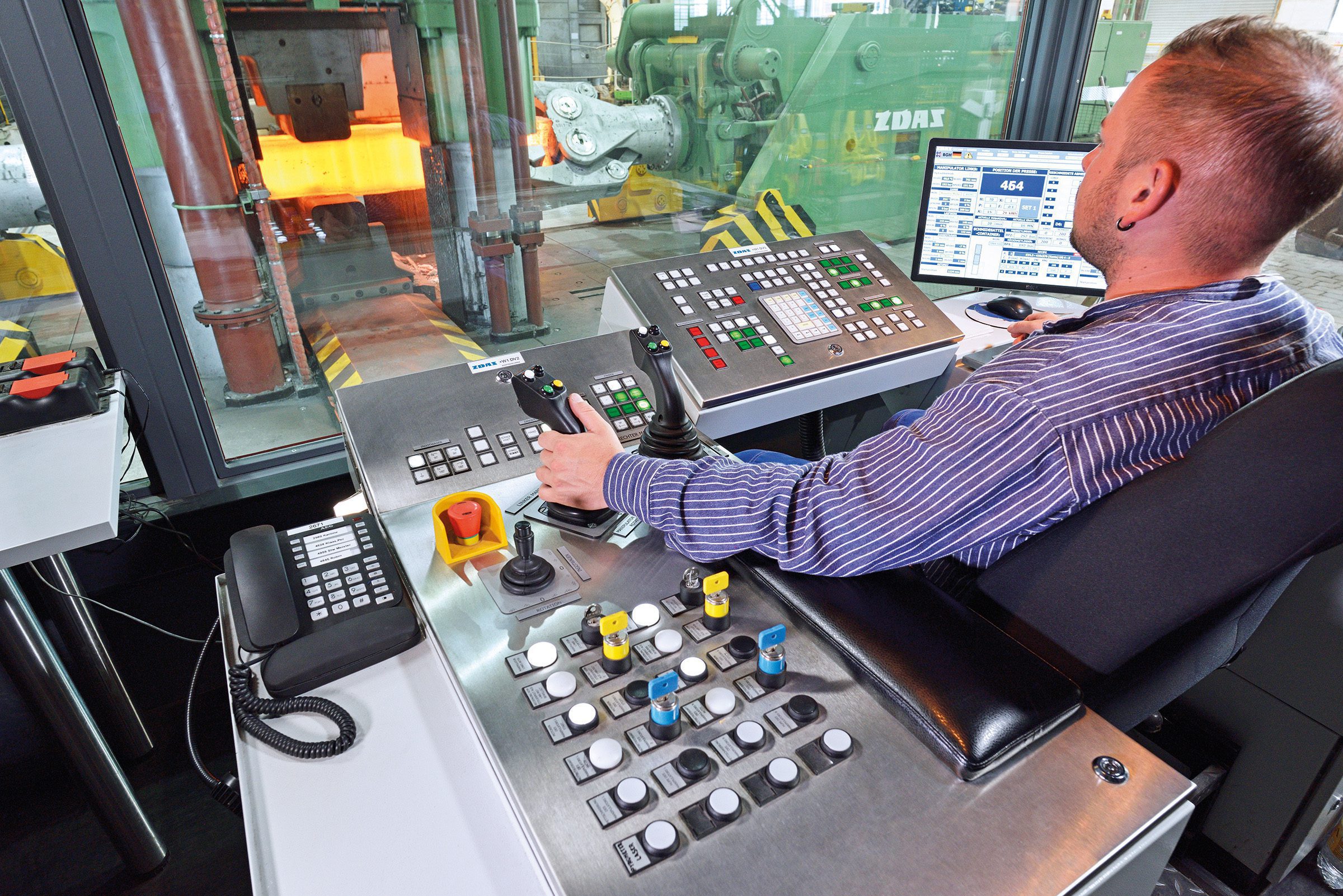 The main focus
In the field of industrial automation, we offer complete solutions for electrical equipment, control systems, sensor and actuator designs, from the analysis through the project, delivery, installation and commissioning.
We focus mainly on the complete solution of electrical equipment for the following products:
hydraulic and mechanical presses
forging units, forging presses and manipulators
straightening, dividing and inspection lines and their modifications
drum shears and their modifications
hydraulic shears for metal scrap processing
baling and cutting presses for metal scrap processing
technological units and master control designed acc. to customer´s requirements (MES and ERP communication)
electrical equipment for conventional machine-tools
electrical equipment for CNC machine-tools (control system modernizations, reconstructions) equipped with SINUMERIK 840 control systems (boring machines, cutting machines, flame cutting machines, horizontal milling and boring machines, boring mills, lathes, turntables)
arc furnace control and regulation
distribution low-voltage switchboards of workshops and transformer stations (energy sector), including application of highly sophisticated solutions
Specialization
projects of control systems PLC Simatic S7, SINUMERIK 840, Allen-Bradley, B&R, SCADA, Win CC, TiaPortal v. 15 and higher, In Touch, Control Web
design of drives (DC, AC, servos) of SIEMENS, ABB, DANFOSS, CONTROL TECHNIQUES, YASKAWA
application of "smart management" from the concept of Industry 4.0, data collection and evaluation, statistics, production monitoring and planning with a link to MES and ERP, use of clouds and virtualization
remote administration of supplied machines and equipment, including higher levels of control (with possible access control), including remote programming (modification) of programs for PLC, SCADA, MES
machine vision, server applications (with a virtual machine system), including redundancies
vibrodiagnostics, monitoring of machines and equipment with prediction of undesirable conditions
design of new machines (equipment) and their hydraulic and electrical control already at the design stage through the manufacture and commissioning of a virtual twin of designed machines (equipment)
risk analysis, including the determination of corrective measures, safe control of machines (equipment), including the line technology
validation of equipment with the issuance of a certificate by a person with the appropriate authorization
Comprehensive services to our customers
We are a company that will completely guide you, our customers, to the world of electrical engineering, from the stage of design, technical consultations (we can listen very well and materialize your ideas), through the design work (E-plan Electric P8 is our standard, but we can also do others), virtual designs, animations, SW work to the actual implementation, commissioning and training of operating personnel.
We are still close to you, in the form of remote access from anywhere in the world or in the form of our dynamically developing service department. We are ready to take care of the delivered equipment throughout its life.
Our goal has always been and is a satisfied customer. We design the equipment so that it is efficient, user-friendly, with minimized operating and service costs.
We also owe you our success!

Contact:

Radek Vlček
Technical Manager of Engineering Division
Phone: +420 566 642 623
E-mail: radek.vlcek@zdas.cz