Contact:
Commercial Manager of Engineering Division
Stanislav Pelikán
Phone: +420 566 643 212
E-mail: stanislav.pelikan@zdas.cz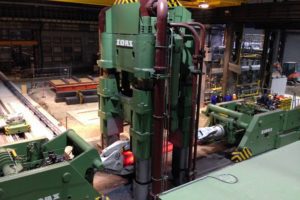 ŽĎAS and TS Plzeň joint stock companies supply equipment for open die and closed die forging in any range. From designing and turnkey solutions through piece equipment to integrated forging units. Wide offer includes servicing repairs, spare parts and modernisation and reconstruction of worn and torn equipment.
Integrated forging units
Comprising of forging press with hydraulic drive and one or two forging manipulators.
Electrical equipment with programmable automatic equipment allow manual or automatic control, including the integration of press – manipulator.
Ingot bogie, rotary lifting table, tool manipulator and tool sets can be included, following the technological purpose of respective unit