PROTUR is the name for a UNIQUE bladeless hydro turbine. The basic advantage of PROTUR system is its ability to work efficiently enough with low water flows on small gradients from 60 cm. A significant advantage is simplicity of the whole system. The turbine has many uses as an additional source for water management, but its main importance is seen in developing countries as a rural and at the same time the only source of energy, or a replacement for non-ecological diesel generators.
PROTUR MAIN TURBINE ADVANTAGES:
stable, continuous source 365/24/7
renewable and ecological source of el. energy
decentralized energy source
equipment with in fact no- maintenance requirements
operation of turbine independent of the supplier
fast installation
mobility
no risk of environmental pollution during turbine operation
on-line remote monitoring of the equipment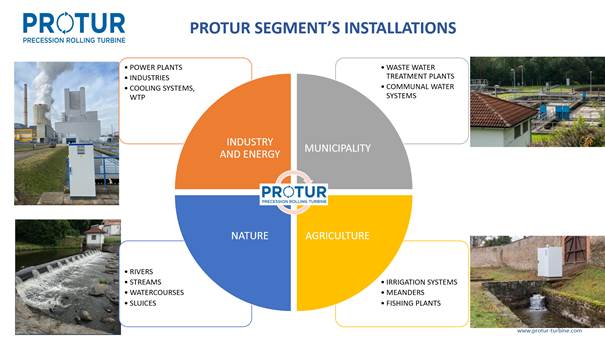 PROTUR PRODUCT CHARACTERISTIC
Precession rolling turbine is primarily intended to produce electricity with a voltage of 24V DC or 230V, 50Hz, but will conform to all national norms and standards.
| PROTUR 300 | PROTUR 600 |
| --- | --- |
| Working slope from 0.7 m | Working slope from 1 m |
| Minimum required water flow from 40 l/s | Minimum required water flow from 80 – 100 l/s |
| Power 0.3 kW | Power 0.6 kW |
| Daily production 7 kWh | Daily production 14 kWh |
| Basic design + design with one or two tires for slopes up to a height of 2.2 m | Possibility to install turbines in assemblies in one horizontal plane using common overflow inlets |
| Possibility to install turbines in assemblies in one horizontal plane using common overflow inlets | Quick installation with minimal need for building modifications |
| Quick installation with minimal need for building modifications | High mobility |
| High mobility – the whole set weighs only 230 kg and for installation needs it can be dismantled into 4 basic building units | High-quality surface treatment through hot-dip galvanizing, which guarantees long life |
| High-quality surface treatment through hot-dip galvanizing, which guarantees long life | Minimum service and maintenance requirements for turbine operation |
| Minimum service and maintenance requirements for turbine operation | |
Contact:
Lukáš Chmel, MBA
Director of Energy projects division
Phone: +420 566 643 232
Mobile: +420 775 707 902
E-mail: lukas.chmel@zdas.cz